Let's assume you have changed the default (2.0.0.230) IP address of the Pixout ArtNet DMX Recorder to another one and forget it.

Default IP address
First of all, please try to get access over the default static IP address (RJ45 connector):
IP: 2.0.0.230
Mask: 255.0.0.0
Or, If the Pixout ArtNet DMX Recorder was previously connected to a Wireless network, you can get access it in two ways
by hostname http://pixoutserver.local
by IP assigned dynamically(DHCP IP) from Wireless router. You can 'ping pixoutserver.local' to get IP as well.
For Microsoft Windows, you need to setup Bonjour drivers first to support URLs like http://pixoutserver.local in your browser or ping. You can download
Bonjour for Windows here
If nothing works with default IPs let's try to find it.
Scanning Network
Please
download
the Angry IP port scanner and install it on your PC. This is a free and
open-source
tool written on Java. After installation setup Network range and press the Start button as described in the following image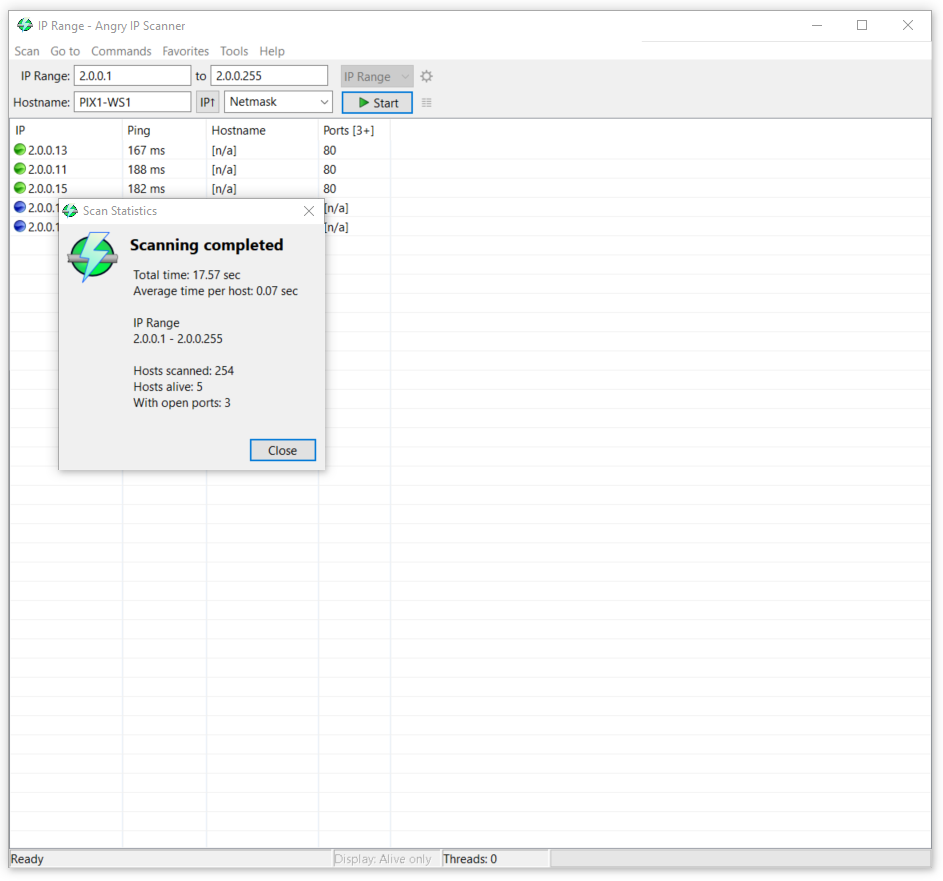 If the Pixout ArtNet Recorder is located in a specified range it will be found and shown in a list as green, otherwise, the recorder IP is located in a different network. If you have configured a Wireless connection you can search for dynamic DHCP IP in your Wireless network range as well.
What if I can't find anything?
If static IP could not be found and the Wireless network is not configured as well so you can't get access over the Pixout ArtNet DMX Recorder and device bricked. Two different ways how to unbrick the Pixout ArtNet DMX Recorder:
Reset the Recorder to firmware defaults by the hardware button. (This option allowed only for the BOXED version of the Recorder)
or, Unscrew the enclosure, get an SD card, and reflash the Recorder. Described in User Manual: 9. FOR UNBOXED VERSION
Many thanks